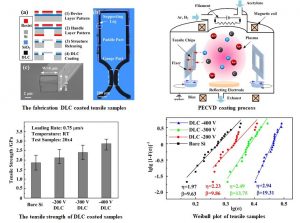 DLC (Diamond Like Carbon) film is one of the promising coating material in MEMS industry deal to its many desirable mechanical and functional properties. In this research, the tensile testing was carried on micro-scaled Si thin film full coated by PECVD DLC film with different deposition bias by PECVD method. An increasing in tensile properties was observed.
[Applications]
The tensile data of DLC fully coated silicon micro structure samples for optimum design by adopting DLC coated MEMS to improve the reliability of device for harsh environment or for specific usage as a kind of functional material.
[Publication]
Wenlei Zhang, Akio Uesugi, Yoshikazu Hirai, Toshiyuki Tsuchiya, Osamu Tabata
Tensile Properties of Single-Crystal-Silicon Fully Coated with Submicrometer-Thick PECVD DLC
The 30th IEEE International Conference on Micro Electro Mechanical Systems (MEMS 2017), Las Vegas, NV, USA, (January 22-26, 2017), W-099, pp.732-735.