Chamber for Diffracted X-ray Tracking
Diffracted X-ray Tracking (DXT) method is real-time imaging technique to measure dynamic conformational change of ion channels by tracking diffraction spots from gold nanocrystals with white X-ray. In DXT measurement with conventional sample chamber, diffraction image contained high level background noise, which prevented diffraction spot tracking. We revealed that the microfabricated silicon nitride observation window and low sample chamber height reduce the background noise, and clear diffraction spots were successfully observed.
[Applications] • Deep understanding of ion channel gating mechanism • New drug discovery targeting ion channel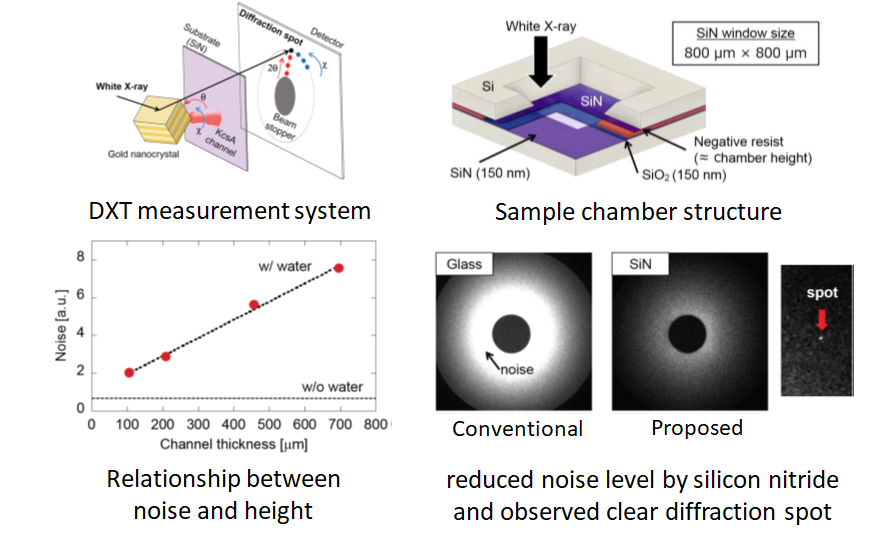 [Publications]
I.Yamauchi, et al., "MICROFABRICATED SOLUTION CHAMBER FOR HIGH RESOLUTIONS DIFFRACTED X-RAY TRACKING METHOD TO OBSERVE ION-CHANNEL GATING MOTION," Transducers 2019.
Y.Hirai, et al., "Microchannel Fabrication Using a Photo patternable Adhesive Material for Recording Conformational Changes of KcsA Channel with the Diffracted X-Ray Tracking Method," Eurosensors 2018.
---