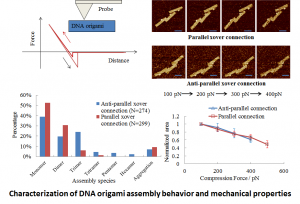 DNA origami is increasingly attractive for the construction of large scale architecture that can arrange a variety of nanoscale materials into ordered structure with high complexity and functionality, but utilization as a functional mechanical component depends on understanding crucial properties such as thermodynamics and mechanical properties.
[Applications]
 providing fundamental knowledge for design and fabrication of DNA origami structures
[Publications]
Z. Ma et al., Direct Measurement of Transversely Isotropic DNA Nanotube by Force-Distance Curve-Based AFM, Micro & Nano Letters, 10 (10), 2015, pp.513–517.
Z. Ma et al. (forthcoming 2016), Investigation of the Self-Assembly Process for Discrete and Polymerized Bivalve DNA Origami Structures, IEEJ Transactions on Electrical and Electronic Engineering, 11(S1).
Z. Ma et al. (forthcoming 2016), Constructing higher order DNA origami arrays using DNA junctions of anti-parallel/parallel double crossovers, Japanese Journal of Applied Physics.