 9/18 Deep learning meets Neuromorphic Hardware (a Workshop of European Conference on Machine Learning and Principles and ...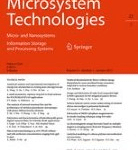 Research on physical reservoir computing using surface acoustic wave device has been publised in Microsystem Technolo ... April is the month when a new school year starts. Five students left to start their new life. Nine students will join ... Toshiyuki Tsuchiya Group
SAW Devices for Reservoir Computing
MEMS reservoir computing using resonant acceleromet ... A paper on micro physiological system device chip, which is a part of PhD research of Dr. Jiandong Yang has published ... A paper about an ionic liquid electrospray thruster has been published in Journal of Evolving Space Activities. This ... Yuki Akura, Masaki Shimofuri, Amit Banerjee, Jun Hirotani, Toshiyuki Tsuchiya
Gap distance dependence on field em ... Masaki Shimofuri, Amit Banerjee, Jun Hirotani, Yoshikazu Hirai, Toshiyuki Tsuchiya
Nanometer order separation con ...