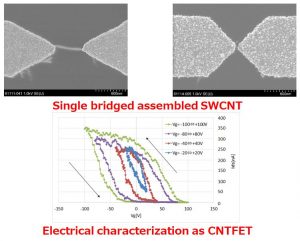 To clarify the characteristic of SWCNT including its variability, high yield bridged assembly method of single SWCNT was developed. And some samples obtained by the assembly method were conducted electrical characterization as CNTFET.
[Applications]
[Presentation]
K. Hokazono et al., 28th IEEE International Conference on MEMS, 2015, pp.417-420.
K. Hokazono et al., 6th Integrated MEMS Symposium, 2014.